Deciding on undergoing a kitchen remodeling project can be stressful, which is why it is essential you choose the right provider of the most crucial products and services. This means finding the right provider for the kitchen cabinets. If that is something you are worried about, you want to ask a few questions before making a decision. Here are the questions that you should ask companies offering kitchen remodeling in Yorba Linda, CA.
Are Your Rates Standard?
You do not want to overpay for the cabinets you choose. You need to research the average costs of the options you are thinking about choosing and then you need to compare those rates with companies in your area. This will give you the average that you can expect. Once you have that, you can ask the provider for a list of the rates they charge and this can help you see if they offer the right rates.
Do You Have Insurance?
If something goes wrong and the cabinets get damaged, you have to be sure that the company will replace them. You do not want to have to pay for this out of your own pocket. By asking about their insurance information, you will be saving yourself a lot of potential hassle in the future.
What Options Do You Offer?
Not all providers of kitchen cabinets can offer the exact options that you may need. If you have a kitchen that requires a special cabinet style or size, you will want to ensure that the provider you are considering can offer options that can fit or that they have the capability of customizing the options you need. You should ask for a list of the services and products they offer before deciding.
Do You Have References?
It is always a good idea to ask for references from the provider of the services you want for your kitchen. You want to know that other people have had positive experiences with them and that they have the right licenses to offer their work in the area. You do not have to check every reference but do check a few to get a sense of what you can expect from the company.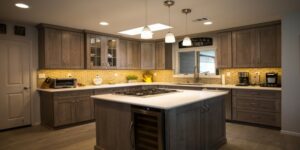 These are some crucial questions you want to ask before deciding on the company that will provide the cabinets for your kitchen. Always be sure to reach out to experts who have been in the industry for a substantial amount of time and who can offer the exact kind of products and services you need. If you want to know more about this, you can reach out to a Yorba Linda, CA kitchen remodeling company like us. We are here to answer all of the questions you may have about getting replacement windows so do not hesitate to contact us. Call us right now or visit us today to get started finding the exact types of kitchen cabinets you want for your new kitchen space.