One of the most important remodeling projects you can tackle is your kitchen. Making sure that your kitchen is up to date and that it is as functional as possible. It is also a pretty big investment, so it is crucial that you take the time to find the right provider for the services you need. To make certain that you are thinking of the right people for the job, there are some things to consider. Here are the best tips to find the kind of company that offers kitchen cabinets in Fullerton, CA that you need for your home.
You never want to choose a company without first asking for references. You need to ensure that the provider you are choosing for the installation and remodel of your kitchen can do a good job and that is something you learn from people who have already hired them. References can tell you a lot of things, including what you can expect from the company. Always ask for references before choosing.
Another thing that you want to remember is to choose a professional with experience. You need to make certain your kitchen renovation is in the right hands, and that can only happen if the person has experience. You should be able to find this information on their site, but if not, you can ask them directly.
Make sure that you know if they can offer the services you need. If you are looking for custom options that are not common, or special surfaces, like quartz countertops, you want to make certain that the provider has them available. A good way of doing this is to ask for a list of the services and products they offer before you make a choice. You can also compare rates to ensure that you will not be overcharged for any services.
You need to have a good idea of the rates that you can expect from this company. This is not always something that is easy to consider, since it will require doing a bit of research on the different companies in your area. If you want to make sure that you are not going to be overcharged, you have to do a bit of research into the average rates you can expect.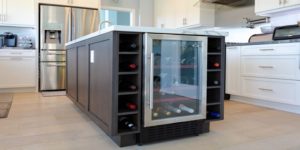 These are some of the things that you want to remember when getting ready to make arrangements for a kitchen renovation. It is important to find the best contractor in your area and to ask them about their rates, how long they have been in business, and if they have insurance and licenses. If you are not sure where to start or if you want to know more about kitchen remodels, you can turn to an Fullerton, CA kitchen cabinets company like us. We are here to offer the guidance you need to get the kitchen you have always wanted. Give us a call right now or visit us today to speak with one of our experts about your kitchen project.