One of the most crucial rooms in your home is your kitchen. You want to have one that is fully functional and that can offer the kind of style and comfort that you need. If this is something that you are not feeling about your kitchen, it may be time to remodel the space. If you are not sure about this or you want to be certain that it is time to undertake this kind of project, there are some signs that kitchen remodelers in Fullerton, CA want you to watch for.
If you realize you no longer have enough storage space, this can mean that it is time for a renovation. Storage in a kitchen is crucial, especially if you want to have a more modern look that is not cluttered. If you find yourself having to squeeze objects into cabinets or having to store them in other rooms, this means it is time to rethink the way your kitchen is set up. This means a remodeling project is a great idea.
Another sign that it may be time for a renovation is if your appliances are older than they should be. Most people do not realize that a refrigerator is only meant to last about thirteen years, and a kitchen range around fifteen. If you have appliances that are older than this or that are not working the way they should be, it can be time to consider renovating the entire kitchen area.
If you do not have enough light or light that does not offer what you need, then this is something that you also want to consider. Many times, people do not pay enough attention to the lighting in a kitchen and that can be a mistake. You want to feel comfortable, both during the day and at night, and you do not want to have to squint to be able to prepare meals. If you do not like the kitchen's lighting, this is another sign to keep in mind.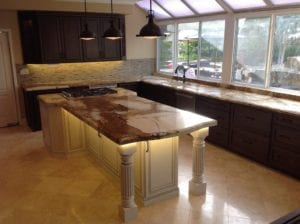 One sign that is a bit more complicated is if your kitchen does not have the right flow. When you cook or move around the kitchen, you need to feel like the space is helping you, not hindering you. If you bump yourself against things or if you do not have the space you need where you need it, then your kitchen does not have the right layout, or the right flow.
These signs can let you know that it is time to renovate your kitchen. You do not want to have to work in a kitchen that does not have the lighting you need or appliances that work as they should. If you want to learn more about how to begin a remodeling project, you can turn to a Fullerton, CA kitchen remodeler like us at Kitchen Cabinets & Beyond. We are here to answer any concerns or questions you may have. Stop by our location today to get started.