These days, choosing green or eco-friendly materials is all the rage. People want to put less of a strain on the planet and there are excellent ways to do that while still getting quality materials and products for your home. If you are planning on updating your kitchen and want to ensure that you can get beautiful cabinets that are still eco-friendly, there are some great materials to choose from. Here are the ones that companies that offer kitchen remodeling in Anaheim, CA want you to remember.
Bamboo is a great option. Most people know that bamboo works very well for flooring, but not everyone remembers that it can be a good material for kitchen cabinets, as well. That is something that you want to consider. Bamboo is beautiful and comes in all manner of colors and styles, so you can always find an option that works well with your kitchen. Another great thing about bamboo is that it is more affordable than many other wood options.
Lyptus is another great option. Lyptus is a material that comes from a hybrid eucalyptus tree. Unlike other hardwood options, which take an average of 30 years to grow, these trees take only 15. They closely resemble oak and mahogany, so they bring the kind of classic style you want without the expensive price and without the strain on the planet. It can also match very well with existing wood options, so you do not have to worry about clashing materials.
Another option to consider is salvaged wood. Salvaged wood can bring a rustic look to your kitchen. This may not be for every kind of home style, but the good thing about salvaged wood is that you can paint it easily and get it looking the way that you want. You want to take some time to consider this option, especially if you are working with a smaller budget and want to make the best of it. You can create the exact kind of cabinets you want with salvaged wood.
You definitely want to go with cabinets that are formaldehyde free. Formaldehyde is a chemical that can be harmful to you and to the environment, so you always want to check to ensure that the cabinet materials you choose do not contain this chemical.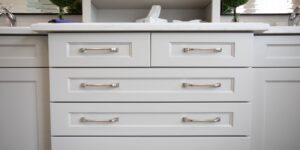 These are important things to consider when getting ready to decide on the materials that you want your kitchen cabinets to be made of. You want to consider what style of cabinets you want and what budget you have available, since that can be a factor in the choice you make. By considering options like bamboo, lyptus, and even salvaged wood, you can get the quality cabinets you want for your home. To learn more about this or to start planning the cabinets you want, you can reach out to an Anaheim, CA kitchen remodeling company like us. With our expertise and our dedication, you will be able to find the exact cabinets you want for your home. Call us right now for more.