One of the most important features in any kitchen is the cabinets. Having kitchen cabinets that look great is an important thing to consider, especially if you are thinking about giving your kitchen an updated look. If that is something that you would like to do but you are not sure if you actually need new kitchen cabinets, it can make a difference to know what signs to look for. Here are the things that companies offering kitchen remodeling in Placentia, CA want you to keep in mind.
If the kitchen cabinets look outdated, you want to consider replacing them. There are some classic styles that never go out of fashion, but there are also trendy styles that quickly become obsolete. If you went for a fad that is no longer in fashion, it is always a good idea to turn to more classic options that will not go out of fashion.
Another sign that it may be time to replace your kitchen cabinets is if they are falling apart. If you see severe damage, like cracking, splitting, stains, or other similar things, you want to consider replacing them. This is something that can make a huge difference in the appearance and function of your space, so do keep it in mind.
If you are changing the layout of your kitchen, you want to also think about whether the cabinets you have fit into what you are planning. It is always easier to replace the cabinets than trying to modify them to fit a new layout. If you are changing the style of the kitchen, you want your cabinets to match that style and that may not be possible with your old cabinets. Choose a style that fits better and that offers the results you want.
If you are getting new appliances for the kitchen, this can also mean that you may need new cabinets. Many times, new appliances will take up a bit more room and that might not allow you to work with your old cabinets. Consider this and take accurate measurements to see if your cabinets need replacing or not.
These are some of the signs that can tell you if your kitchen needs new cabinets. If you see that they do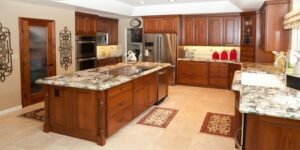 not look their best or that they do not function as efficiently as you would prefer, it can be important to consider getting new ones. Take the time to think about the style that you want for your space and consider whether the current cabinets can offer that. If they cannot, then a replacement can be the best option. Learn more about choosing cabinets by turning to a Placentia, CA kitchen remodeling company like us. We have years of experience helping people find the right options they want for their homes, so be sure to contact us to learn more about what we offer. Call us right now to speak with experts about our options so that you can get the kitchen you want.