Undertaking a large renovation project like updating or redoing your kitchen is something that you want to take some time to think about. You want to be certain that you know what you can expect from this kind of project. If you are not certain yet of whether or not you want to remodel your kitchen, there are some reasons that kitchen remodelers in Anaheim Hills, CA want you to remember.
One reason to consider remodeling your kitchen is to update and improve your work area. If you do a lot of cooking, this can be essential. If your kitchen is old, then the floorplan might not be as efficient as you want it to be. This can mean that you are walking around more than you should and that the items you need are far out of reach. When you remodel your kitchen you can get rid of these issues and create a floorplan that works for you and for your needs.
Another reason to consider remodeling your kitchen is if you have changed your aesthetics and want the kitchen to look different than it does. You may have become more of a fan of modern homes or perhaps you want a more classic look. No matter what you prefer, you can only really get the kitchen to look the way you want it to by reaching out to experts for a whole kitchen remodeling project.
You may also want to remodel your kitchen if your appliances are very old. Appliances that are old not only look it, but also hike up your energy bill each month because they are inefficient. When you get new appliances, you will see how much more energy efficient they can be and how much you will save on just that. You can also get appliances that fit your style best when you do this.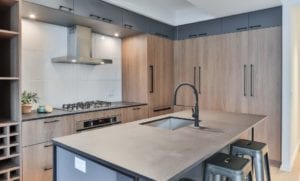 When you remodel your kitchen you can also make it better for entertainment. If you love to have people over and you like serving meals or drinks in your kitchen, then you need to have a space that allows you to do that. Your old kitchen may not be able to offer that, so you want to consider remodeling the space.
All of these things are crucial when you want to consider remodeling your kitchen but are not entirely sure yet if that is the best option. Think about the style you have and about the kind of use that you get from the kitchen, since that can tell you if you need the renovation or not. Do think about efficiency and about how old your appliances are, since that can also make a difference in your choice. If you are not sure if you want to undertake this kind of project, you can turn to an Anaheim Hills, CA kitchen remodeler like us at Kitchen Cabinets and Beyond. We are ready to help you with all of the arrangements that you want. Give us a call right now.