Undertaking a kitchen renovation project is something that can take time and be stressful, so you want to be sure that you can find the right season in which to do so. For this kind of project, spring is a good season for a number of reasons. If you are not sure about this and you want to know more about why spring is a good time for kitchen renovations, kitchen remodelers in Placentia, CA want you to keep a few things in mind.
We have all heard about spring cleaning and that can apply to remodeling projects, as well. It can be psychologically sound to declutter and make the kitchen space into a functional area and there is no better time to do so than when the weather is warmer. People tend to do large cleaning projects in the spring because the cold has abated and the heat has not yet begun and the same thing can apply to a kitchen remodeling project.
During spring, children are still in school, so they will not be underfoot as you begin the kitchen renovation. In the summer, this is more complicated, and it can be tough to have children running through the home as the remodeling takes place. You also do not have to worry about monitoring them throughout the day, making it easier for you to focus on what you want to get from the renovation.
Spring temperatures make it possible for you to think about using outdoor grilling and even eating meals outside. That might not be the case in the summer, depending on where you live. It can be too hot in some areas of the country or there may be insects that make this more difficult. The spring can be the perfect time for outdoor dining.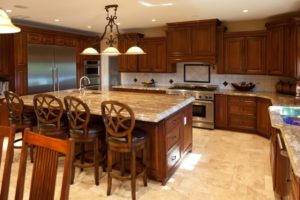 Another reason to undertake a spring kitchen renovation is that your kitchen will be ready for the summer months. You will be prepared to host summer parties and enjoy entertaining to your heart's content. It can make a difference to have your kitchen ready to go to enjoy during the hot summer months.
These are some important reasons to consider beginning a kitchen renovation project in the spring. Not only will the temperatures be perfect for what you want, but you will also not have your children underfoot as you would during the months they are off of school. The spring can also ensure that you have a beautiful new kitchen for summer entertaining. You can see why most kitchen remodeling companies recommend you begin this kind or project in the spring. If you want to know more about any of this or if you would like to begin your remodeling, you can turn to Placentia, CA kitchen remodelers like us. We are here to help you with all of the arrangements you need to make for your home see our reviews, so be sure that you consider reaching out to us for a bit of help. Give us a call now or visit us today to get started.