Customizable Options for Kitchen Cabinets and Kitchen Remodeling in Placentia, CA
Tackling a home renovation project is an exciting time but may also carry some trepidation for the homeowner. It is often said that the heart of the home is the kitchen. One of the key features in that space is cabinetry. For the ultimate custom kitchen cabinets and kitchen remodeling in Placentia, CA, you will need a contractor to help you design and install these essential elements and see to all of the necessary finishing details.
When you work with the pros at Kitchen Cabinets and Beyond, you can rest assured that you are in competent and capable hands. Your design team has a robust portfolio of completed projects, plans, and inspirational themes. However, they really shine at asking questions and capturing your vision for the space. They understand that for you to love this space, it will need to appeal to your tastes and function well for its intended usage.
Cabinetry can be custom ordered for sizing and wood types and comes either finished or unfinished in a variety of quality name brands. If the structure of your existing cabinetry is sound, you may consider having your fronts refaced instead of completely starting over. Refacing can be a great solution in many instances, saving you time and money. Perhaps an update to your countertops is the finishing touch that is needed. Choose between quartz or granite countertops in the perfect colors for your kitchen.
Outside of Kitchen Cabinets and Kitchen Remodeling in Placentia, CA
We all know that kitchens aren't the only star of the show in our home, nor are they the only area you might be thinking of updating. Renovation of bathrooms can bring a fantastic return on investment and improve how you appreciate and use your home. Built-in cabinetry in your bathroom can make a world of difference in how your space operates. Storage, shelving, and drawers with convenient access can keep everything in order and within easy reach.
Bathroom remodeling can also include all those finishing details, including tile installation for your floors and walls. This protects areas that are exposed to moisture and can add so much detail and beauty to the design of your bathrooms. Does your tiled shower need a complete makeover? There are so many gorgeous design motifs, from classic to modern styles. Custom painting in your favorite colors will add depth to your cabinetry and/or walls for a completely new and fresh space.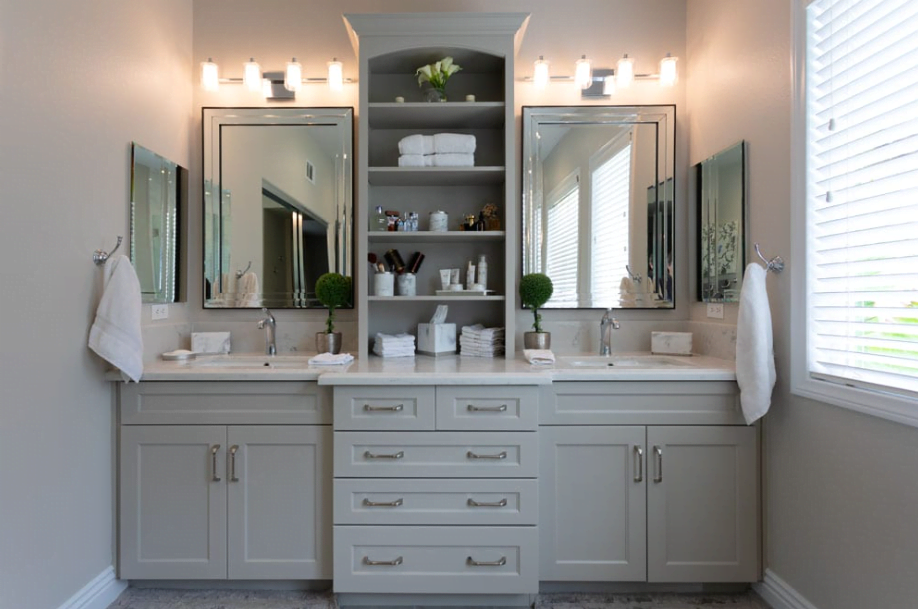 Another important area that can use custom built-ins and cabinets is your home office. Maybe you meet with clients there– or perhaps you don't–but either way, you need a space where you can focus and keep your files in order. You can make your office space a place you look forward to being for productive and efficient work time. Other areas to consider updates include fireplaces and mantles or other built-in shelving options. All of your spaces, including kitchen cabinets and kitchen remodeling in Placentia, CA, can be changed entirely and more quickly than you might think!
Hire Experienced Professionals Who Deliver Polished Results and Quality Brands
Finding a provider who will take pride in their work with fair and honest pricing will help you have a wonderful home remodeling experience. Kitchen Cabinets and Beyond is locally owned and operated with experienced professionals who really want what is best for their clients' needs. Imagine finding a team of experts who can take your concept into the design stages through full installation while incorporating your input and customizing the project to your specifications.
As certified vendors and installers for many highly rated cabinetry brands, the team at KCB offers a wide range of products to meet the needs of our diverse client base. They are pleased to represent the following companies from the initial order of your desired products to certified installation with trained and experienced workmen:
Omega Cabinetry
KitchenCraft
Homecrest Cabinetry
Spectrum Quartz
Q Premium Natural Quartz
PentalQuartz
This team is ready to support your purchase for years to come should you require warranty work. They aim for repeat customers as you move to other homes or simply wish to add to your projects when the timing is right. Working in phased projects to support clients with updates over time and within the constraints of a budget is something this company often helps with.
Check out the reviews and client testimonials at Kitchen Cabinets and Beyond. Then, see what is possible by making an appointment to peruse their professional portfolio of finished products and projects. Your no-obligation consultation and quote will give you a better idea of what could be done to make your space everything you wish it to be. For all of your needs with kitchen cabinets and kitchen remodeling in Placentia, CA, call (714) 630-0477 or stop in at the store located at 2910 E La Palma Ave, Ste B, Anaheim, CA 92806.