Custom Kitchen Cabinets and Kitchen Remodeling in Orange, CA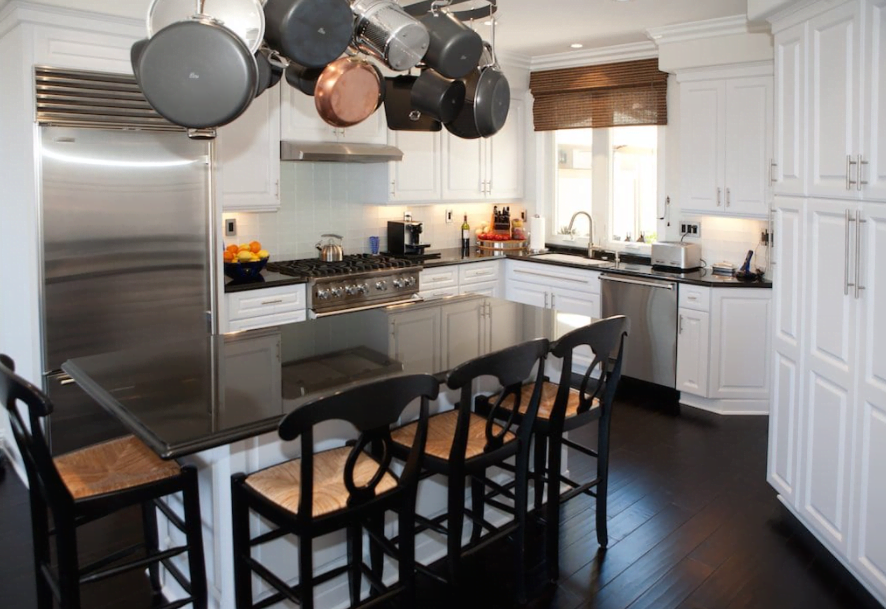 Are you looking for a reliable, professional, and fair remodeling contractor to handle your remodeling needs? If so, you need to look no further than Kitchen Cabinets and Beyond! The experienced and gifted design experts are always listening to their clients to be sure they can help you design a space that you will absolutely love for its aesthetic and functional components. For all of your cabinetry needs, including kitchen cabinets and kitchen remodeling in Orange, CA, you have found your dream team!
Renovation of important spaces in your home, such as the kitchen or bathroom, is best developed with the end in mind. Working with experienced designers can help you avoid the pitfalls that others may have learned the hard way. It is fantastic to find a team who can help you through the process from design through installation and answer your questions along the way in real-time. Working with an establishment that can help you through each step can also help with efficient timelines and turnaround times.
At Kitchen Cabinets and Beyond, we can offer modern, totally custom cabinets in finished or unfinished stages, depending on your preferences. If your existing cabinets simply need a facelift, we have an excellent track record with refacing cabinets instead. With beautiful finishing options in both quartz and granite countertops, your space is going to boast a major upgrade in appearance and function.
Looking Beyond the Kitchen Cabinets and Kitchen Remodeling in Orange, CA
Maybe your kitchen isn't your focus area right now, but you still need a great team to work with you in kitchen remodeling. Another area we specialize in is bathroom remodeling and renovation. Having well-designed and installed cabinets can make or break your ability to use the space effectively and efficiently. We can take care of all steps in the renovation, including tile installation for floors and shower walls and backsplash waterproofing protection. Our team can even help with custom paint jobs of your spaces, including customizable color matching.
Are you retrofitting a space to be a home office or library? Built-in cabinetry designed for your unique space means you are sure to love it for years to come! A place to retreat to a cozy reading room or area can be a lovely escape when you can't get away for long. Customizing plans for your home office needs truly can make your workspace a place you will feel confident and collected to meet the demands of your time and energy.
Another area we love to upgrade, and build out for our clients is fireplaces and mantles. There are practically limitless options for details, finishes, and styling. If you are looking for classic or modern design elements, our portfolio boasts a wide range of designs we have installed. Imagine all of the possibilities, and then let us help you with your dreams. We can design and install renovations for any important space, including your kitchen cabinets and kitchen remodeling in Orange, CA.
Highly Rated and Experienced Cabinetry Experts at Kitchen Cabinets and Beyond
What are some things you can look for to find out more about the team you are looking to hire for your remodel? A great place to start is by asking around your network. Who has had a remodel job that they are just thrilled about? Then, look around online and read the reviews that you find. Of course, reviews shouldn't be your only consideration since they can be biased in either direction, but they may be a helpful place to start and point to overall trends.
Once you have a handful of companies that you are interested in working with, set up some appointments for quotes. If at all possible, try to meet some members of the design and installation team before you make your decision. You'll need to work with someone with whom you can communicate well and ideally have a decent level of rapport. They are going to be coming into your personal space, so you need a team that is honest and reliable.
Kitchen Cabinets and Beyond has become respected throughout the area. We are proud to offer products from top quality and affordable brands such as:
Omega Cabinetry
KitchenCraft
Homecrest Cabinetry
Spectrum Quartz
Q Premium Natural Quartz
PentalQuartz
As certified dealers and installers of these highly-rated companies and products, we can support any warranty work or needs if they arise.
The experts at Kitchen Cabinets and Beyond have taken the time to learn their craft. With years of experience and extensive real-life training, our team is more than qualified to take on your project and make something both beautiful and practical. As a result, our customers are overwhelmingly happy with their new kitchen cabinets and kitchen remodeling in Orange, CA, and other areas of their homes that we remodel. Call us today at (714) 630-0477 or stop into our showroom at 2910 E La Palma Ave, Ste B, Anaheim, CA 92806.