How to Know if You Need Kitchen Cabinets and Kitchen Remodeling in Irvine, CA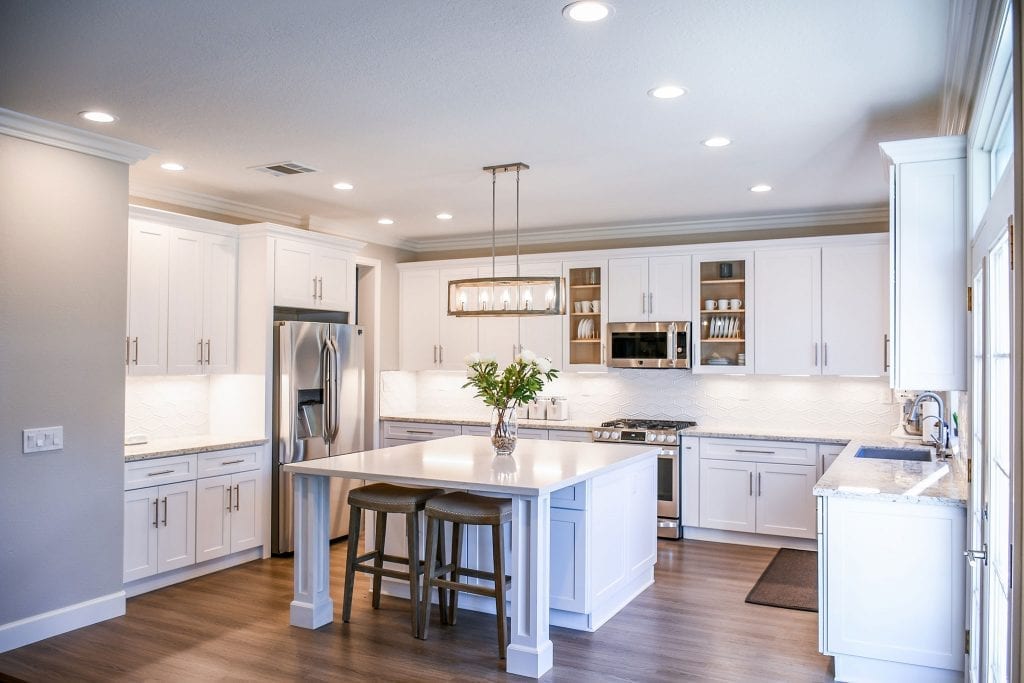 Do you think that you need kitchen cabinets and kitchen remodeling in your Irvine, CA home? It can be a hard decision to move forward with a home remodeling project, but it is worth the effort because of the final outcome that you will be able to enjoy. Here at Kitchen Cabinets and Beyond, we want to help you create the kitchen that you have always wanted!
Improve the Appearance of Your Home
If you live in an outdated home, then it is possible that you might be embarrassed about the appearance of your home. Do you hesitate to invite friends and family over, because you don't like the appearance of your kitchen? Old design styles, damaged kitchen cabinets, and worn out flooring can have a negative impact on the way your home is presented to other people. Luckily, you have many options available to improve the appearance of your home, and you will be glad that you made the decision to get started with kitchen remodeling.
You can make major changes by updating the entire kitchen. The possibilities are endless, because you can choose the layout of the cupboards and counters, the colors and design styles, and the flooring. These details make a difference to impact the appearance and comfort of your kitchen.
By updating the kitchen, you can change the overall look and feel of the house. Since the kitchen is considered the heart of the home, it makes sense that it should be the central focus for your remodeling efforts. Here at Kitchen Cabinets and Beyond, we are committed to helping you create a kitchen that you will love and we are available to assist with your home.
Broken Kitchen Cabinets and Appliances
Does it feel like everything is breaking down in your kitchen? Even if your kitchen might look ok, you have probably noticed small nuances such as cabinet doors that are getting loose and other problems. These issues can make it uncomfortable to be in your kitchen, because the problems cause you to feel frustrated with your home.
Instead of putting up with these problems, it is better to take action to remodel the space and improve your kitchen. These broken pieces can be fixed, and you might consider a full upgrade to get rid of the old hardware and appliances.
Create a Space for Family Gatherings
If you like to spend time with your family sharing a meal or playing games at the kitchen table, then you need to make sure that you have a space that is comfortable and designed in the right way. Kitchen remodeling in Irvine, CA can be designed to make your living space more comfortable and functional. As a result, it is easier to have these family gatherings because you have access to all of the things that you need.
Additionally, the improved appearance of the new kitchen makes your living space beautiful and comfortable for everyone to enjoy. Instead of feeling stressed over the outdated kitchen cabinets and the old design features, you can relax and soak in the beauty of an updated kitchen.
The comfort and appearance of your home makes a big difference to impact your emotions and feelings. By creating a space where you can relax and enjoy time with family, you will see that you are happier and more satisfied during the times that you spend at home.
Increase Property Value
Even if you aren't planning to sell your home right away, it can be beneficial to update the kitchen in order to improve the value of your home. When an appraiser walks through the home, they will take a close look at the quality of the kitchen. Home buyers want a nice kitchen in the home, so it is often a priority when you are getting ready to sell your home.
Kitchen remodeling projects right now will allow you to enjoy a beautiful space and increase property value at the same time. When you are ready to sell your home in the future, then you will have the peace of mind to know that you will be able to get a higher price. Value matters, because these upgrades will increase the amount of equity that is available which can be applied to your new home when you move.
For more information about kitchen cabinets and kitchen remodeling in Irvine, CA, the best thing that you can do is talk with an experienced contractor. Here at Kitchen Cabinets and Beyond, we want to help you make these upgrades in your home. We invite you to come see our large showroom located at 2910 E La Palma Ave Ste B, Anaheim, CA 92806. Another option is to fill out our online contact form. We can also be reached via phone at (714) 630-0477.
Client Reviews